Extractions
Despite our best efforts, sometimes a tooth or teeth cannot be saved. An extraction is the process of removing a tooth. Some teeth are too severely decayed, broken down, fractured, or too infected to keep. Sometimes it is necessary to remove a tooth in an effort to save another tooth.
Schedule an appointment
PATIENT INFORMATION
The procedure
Extractions fall into two basic categories. Surgical and non-surgical (simple) extractions. Surgical extractions require an incision around the tooth and often a reflection of the gum tissues around the tooth to be extracted. Non- surgical extractions do not require these steps. In some instances, the placement of a bone graft or guided bone regeneration graft will be recommended along with a surgical extraction. These grafts are sometimes necessary to help prevent or correct bony defects associated with the tooth or teeth to be extracted. Bone grafts are recommended based on the quantity and quality of the bone at the extraction site. A bone graft may be needed to replace a tooth or teeth with an implant, fixed bridge, or partial removable denture.
Treatment options
Dr. Seale will evaluate your specific needs and discuss with you how the tooth or teeth will be extracted. He will advise you on any bone graft recommendations. You will also receive a consultation regarding your sedation options, if you prefer to be sedated at the time of your treatment. All of these factors will be discussed with you, and your questions answered, before your extraction appointment.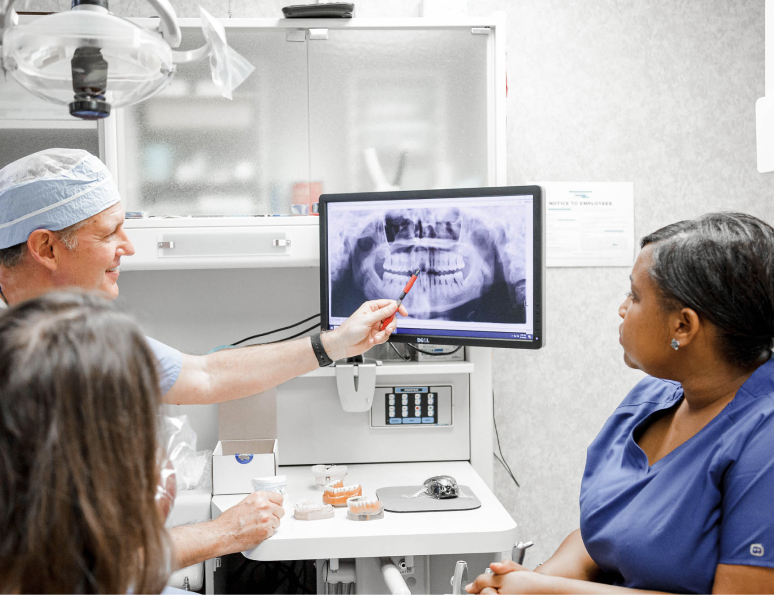 Our step by step process to get you back the smile you deserve.
01.

Clear communication

Dr. Seale and his staff will be happy to help guide you through treatment processes to ensure that you understand your options and benefits.

02.

Diagnosis

During your initial exam, Dr. Seale will evaluate your specific needs by performing a thorough examination.  He will then advise you of your best treatment options.

03.

Treatment

Each patient is different and Dr. Seale will recommend treatment to set the patient up for the best possible chance at success.

04.

Maintenance

Periodontal maintenance is a professional cleaning procedure where a hygienist thoroughly cleans the teeth. Maintenance care is critical to maintain a healthy beautiful smile.
Contact us
Insurance providers we accept
We are not an in network provider, but will help you file your dental insurance! Insurance Information.
Some of our providers