Guided tissue regeneration
Guided tissue regeneration (GTR) is a very similar surgical procedure to guided bone regeneration (GBR). Both surgical techniques offer an opportunity to regenerate lost tissue and both techniques depend on careful case selection for successful results. However, there is one significant difference between the two procedures. GBR grafting regenerates lost bone. GTR grafting offers the opportunity to regenerate lost bone, cementum (outer layer of the root surface), and periodontal ligaments.
Schedule an appointment
PATIENT INFORMATION
The procedure
In cases of periodontal bony defects, GTR using a combination of bone particles, barrier membranes, and matrix-derived proteins (Emdogain), can provide substantial regeneration of lost support structures.
Emdogain is a protein-based gel designed to promote predictable regeneration of lost periodontal hard and soft tissues caused by periodontitis (gum disease). This can help to save and preserve teeth. Emdogain encourages the regrowth of cementum, periodontal ligaments, and alveolar (jaw) bone. GTR grafting is often used in conjunction with other surgical procedures.
Proven experience
Dr. Seale has been performing GTR and GBR regenerative procedures for over 25 years. As a specialty trained periodontist, he has the training, experience, and knowledge to help advise you if these procedures will significantly improve your treatment results.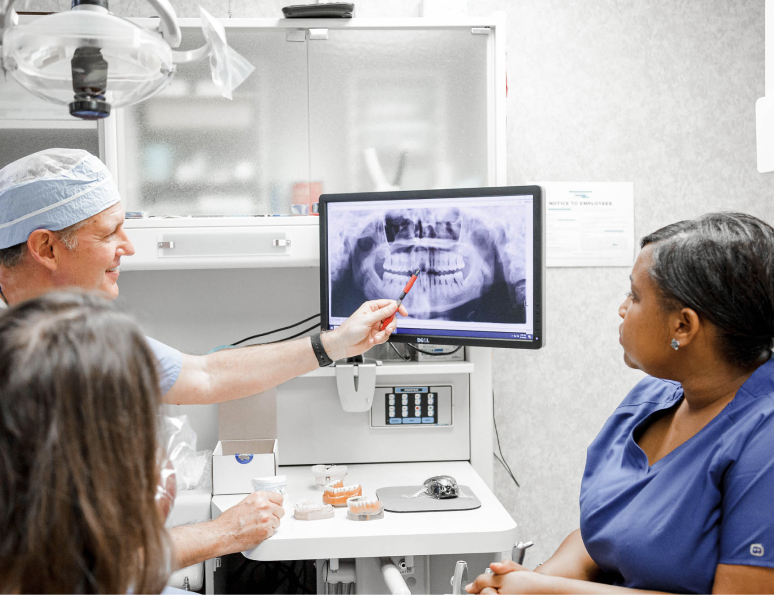 Our step by step process to get you back the smile you deserve.
01.

Clear communication

Dr. Seale and his staff will be happy to help guide you through treatment processes to ensure that you understand your options and benefits.

02.

Diagnosis

During your initial exam, Dr. Seale will evaluate your specific needs by performing a thorough examination.  He will then advise you of your best treatment options.

03.

Treatment

Each patient is different and Dr. Seale will recommend treatment to set the patient up for the best possible chance at success.

04.

Maintenance

Periodontal maintenance is a professional cleaning procedure where a hygienist thoroughly cleans the teeth. Maintenance care is critical to maintain a healthy beautiful smile.
Contact us
Insurance providers we accept
We are not an in network provider, but will help you file your dental insurance! Insurance Information.
Some of our providers