Implants
A dental implant is an artificial tooth root placed into your jaw to hold a replacement tooth, bridge, or denture. While high-tech in nature, dental implants are actually more tooth-saving than traditional bridgework, since implants do not rely on neighboring teeth for support.
Schedule an appointment
PATIENT INFORMATION
The procedure
The success rate of dental implants is highly predictable. They are considered to be an excellent option for tooth replacement. However, dental implant treatment has to be carefully planned and performed. Because dental implants intimately connect with your gums and jawbone, a periodontist, like Dr. Seale, is an ideal member of your dental implant team.
Trusted experience
Dr. Seale has expert specialized training, knowledge, and experience that will benefit your implant treatment. He will act as a coordinator between your restorative dentist, laboratory technician, implant company representative, and you, the patient. This coordination is critical to obtain your best results.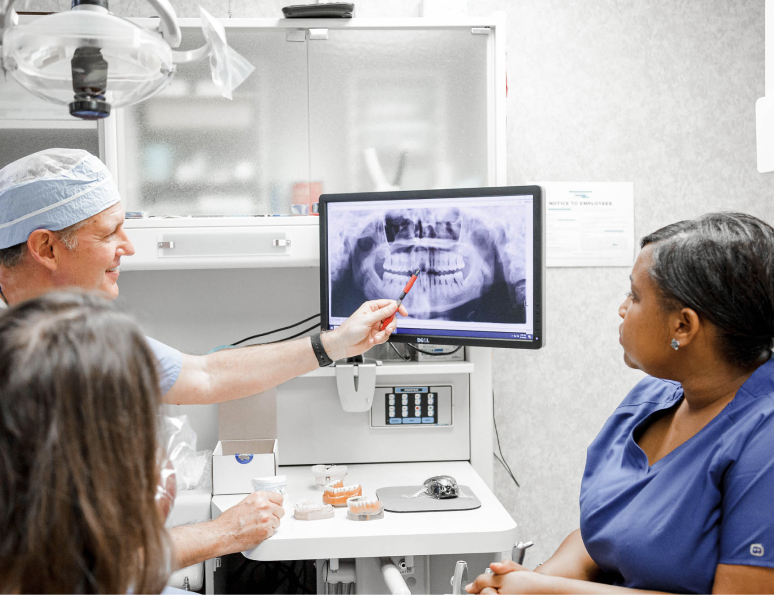 Our step by step process to get you back the smile you deserve.
01.

Clear communication

Dr. Seale and his staff will be happy to help guide you through treatment processes to ensure that you understand your options and benefits.

02.

Diagnosis

During your initial exam, Dr. Seale will evaluate your specific needs by performing a thorough examination.  He will then advise you of your best treatment options.

03.

Treatment

Each patient is different and Dr. Seale will recommend treatment to set the patient up for the best possible chance at success.

04.

Maintenance

Periodontal maintenance is a professional cleaning procedure where a hygienist thoroughly cleans the teeth. Maintenance care is critical to maintain a healthy beautiful smile.
Contact us
Frequently asked questions
01.

What does an implant look like?

Esthetically, dental implants look and feel like your own teeth. Since dental implants integrate into the structure of your bone, they prevent the bone loss and gum recession that often accompany tooth supported bridges and dentures. Implants are also tooth saving. Replacing a single tooth with an implant is kinder to the adjacent teeth. A tooth supported fixed bridge requires the adjacent teeth to be ground down to support the bridge. An implant avoids the need to alter the structure of the adjacent teeth. This is a significant benefit to your long-term oral health.

Implants can be used to relace a single tooth (implant supported crown), replace several teeth in a row (implant supported fixed bridge), replace multiple teeth scattered over many spaces (implant supported partial denture), or replace all of your teeth (implant supported full denture). In each of these uses the basic implant component parts are the same: implant, abutment, and restoration. The implant is a small titanium screw that is placed under the gums and into the jawbone. Think of it as a "root". The implant is left under the gums to heal for a few months. During this time, the implant fuses with the jawbone in a process called osseointegration. When the implant and jawbone bond together, they provide a strong anchor to support your restoration. During this healing time, a temporary restoration can be worn above the gumline for esthetic purposes. After, the implant has integrated with the bone, the restorative abutment is placed onto the implant. The abutment acts to transition from the implant, at bone level, through the gum tissues. The abutment acts as the attachment for your restoration (crown, bridge, denture) to the implant. Abutments come in a variety of sizes, shapes, and forms. Each has a specific purpose. Dr. Seale will guide you and your restorative dentist in choosing the right abutment for your specific needs. Finally, the restoration or "dental prosthesis" is attached to the abutment. As previously stated, this could be a single crown, a bridge, or a denture, depending on your needs.

When you have one tooth missing, a single implant is placed into the bone to replace the tooth root. An abutment is then placed onto the implant to extend through the gum tissues. The abutment simulates a tooth that has been prepared to receive a crown. The crown is then attached to the abutment. This treatment choice has the highest success rate, making it the best long-term investment for replacing a single missing tooth. Even if the initial cost is slightly higher than other options, it is the most cost-effective solution over time. An implant will never decay or need a root canal, and feels just like the tooth that was there.

04.

Replacing several teeth?

When you have more than one tooth missing, implants provide an ideal replacement option. You don't even need one implant for every missing tooth. Instead, implants can act as supports for fixed bridgework. For example, if you are missing three teeth in a row, Dr. Seale can place two implants, one on either side of the gap, and a crown in between that has no implant underneath. That way, you will not need to use any of your remaining natural teeth as supports, which could weaken them.

Implants can support an entire arch of upper or lower replacement teeth. This approach usually requires the use of several (4-6) implants to support a specially fabricated bridge. The number of implants needed depends upon the jawbone volume and density. Implants can even make your current removable dentures more comfortable, effective, and healthier to wear. Traditional dentures rest on the gums and put pressure on the underlying bone. This accelerates bone loss so that the jaw shrinks with time and the dentures slip. This can be particularly troublesome in the lower jaw. Today, dentist can attach a removable denture onto implants, transferring that pressure into the bone structure rather than the bone surface. This approach usually requires fewer implants (2-4) and can often use your existing dentures. This prevents your removable dentures from slipping while you speak and eat, and helps preserve the bone adjacent to the implant supports.

Dr. Seale and his staff will be happy to help guide you through the implant treatment process to ensure that you understand your implant treatment options as well as the expected benefits associated with each option. We understand that implant treatment can seem confusing, frightening, or just overwhelming to some patients. Let us help.
Insurance providers we accept
We are not an in network provider, but will help you file your dental insurance! Insurance Information.
Some of our providers