Osseous surgery
Your bone and gum tissue should fit snugly around your teeth like a turtleneck around your neck. When you have gum disease/periodontal disease, these supporting tissues are destroyed and pockets develop. Over time, these pockets become deeper and provide even larger spaces under your gums for bacteria to collect and for calculus/tartar to form. This results in even more bone loss, even deeper pockets, and so on. The result can be the loss of your teeth.
Schedule an appointment
PATIENT INFORMATION
The procedure
Osseous surgery is a surgical intervention designed to stop this vicious cycle and restore a healthy, stable gum and bone attachment around your teeth. Osseous surgery is a traditional procedure that reduces gum pockets that have failed to respond to other treatment options such as Scaling and Root Planing.
Osseous surgery is performed in an effort to help you retain your teeth and create an environment that is easier to keep clean. As with any periodontal treatment, a lifelong commitment to good daily home care and regular professional maintenance is essential for long lasting success.
During surgery
During the surgery, an incision is made around the infected teeth so that the gums can be lifted back for better access and visualization of the tooth roots and bone. The infected gum tissues are removed. The diseased bone is smoothed and reshaped to eliminate places for bacteria to collect. The roots of the teeth are cleaned and smoothed to remove all calculus deposits. Finally, the gum tissues are closed with sutures. These steps make it harder for bacteria to collect and multiply, and make it easier for the body to self-repair.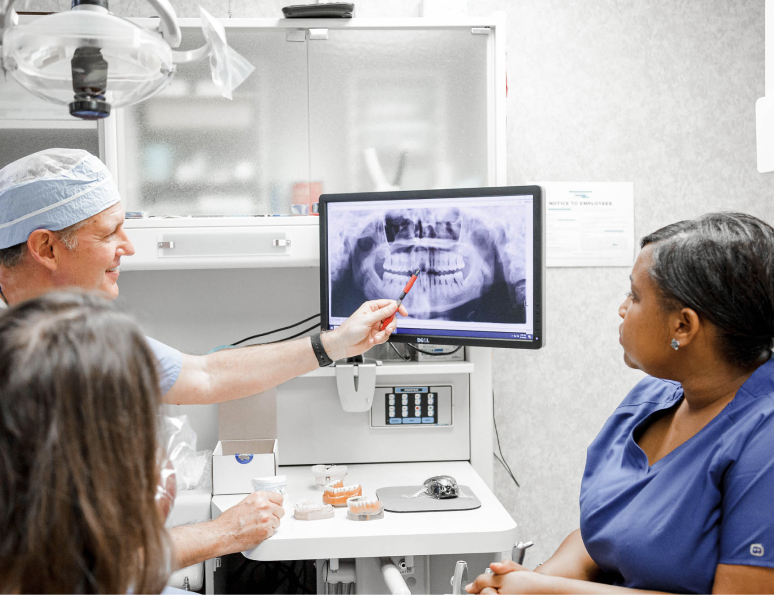 Our step by step process to get you back the smile you deserve.
01.

Clear communication

Dr. Seale and his staff will be happy to help guide you through treatment processes to ensure that you understand your options and benefits.

02.

Diagnosis

During your initial exam, Dr. Seale will evaluate your specific needs by performing a thorough examination.  He will then advise you of your best treatment options.

03.

Treatment

Each patient is different and Dr. Seale will recommend treatment to set the patient up for the best possible chance at success.

04.

Maintenance

Periodontal maintenance is a professional cleaning procedure where a hygienist thoroughly cleans the teeth. Maintenance care is critical to maintain a healthy beautiful smile.
Contact us
Insurance providers we accept
We are not an in network provider, but will help you file your dental insurance! Insurance Information.
Some of our providers