Periodontal maintenance
Periodontal maintenance care is a critical aspect of your periodontal treatment plan and your long-term periodontal success. Maintenance care cannot be stressed enough. This treatment is crucial to maintain the improvements in your oral health gained through your initial periodontal treatment. Gum disease is a management disease, much like diabetes or heart disease. There is no permanent cure. You must be committed to a lifetime of good oral home care and regular professional cleanings to achieve your best long-term results.
Schedule an appointment
PATIENT INFORMATION
The procedure
Your individual maintenance cleaning schedule will be based upon your specific individual needs. Dr. Seale will advise you on your maintenance schedule. Factors such as your over all health (diabetes, heart disease, smoking, etc…) your level of home care, and your severity of gum disease all affect Dr. Seale's recommendations for your continued maintenance cleaning schedule. Typically, you can expect to be advised to begin a 3, 4, 6 month maintenance recall schedule. Some patients alternate their cleaning schedules between Dr. Seale and their restorative dentist. Other patients elect, or are advised, to return solely to Dr. Seale. While other patients are advised to return to their restorative dentist for their continued care. Again, these recommendations are tailored to your individual needs.
Treatment options
A typical maintenance care appointment with Dr. Seale's office will take about an hour. During that time, you will receive a periodontal exam to monitor your status, a full mouth thorough periodontal cleaning, full mouth polishing, topical fluoride application, and a review of your home care routine. If we detect any restorative treatment needs, you will be informed and we will help coordinate any appointment with your restorative dentist. Your dentist will receive a written report after every maintenance appointment with our office. Our goal is to keep everyone involved in your dental treatment well informed, organized, and on schedule.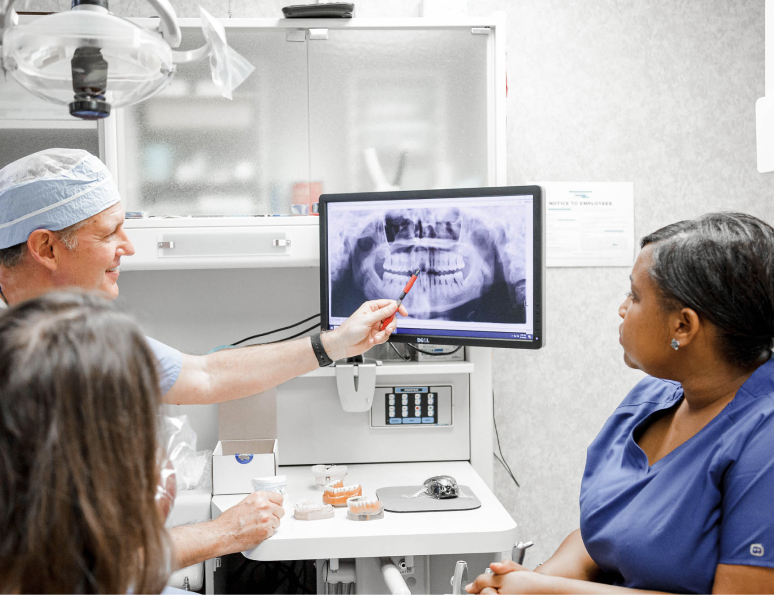 Our step by step process to get you back the smile you deserve.
01.

Clear communication

Dr. Seale and his staff will be happy to help guide you through treatment processes to ensure that you understand your options and benefits.

02.

Diagnosis

During your initial exam, Dr. Seale will evaluate your specific needs by performing a thorough examination.  He will then advise you of your best treatment options.

03.

Treatment

Each patient is different and Dr. Seale will recommend treatment to set the patient up for the best possible chance at success.

04.

Maintenance

Periodontal maintenance is a professional cleaning procedure where a hygienist thoroughly cleans the teeth. Maintenance care is critical to maintain a healthy beautiful smile.
Contact us
Insurance providers we accept
We are not an in network provider, but will help you file your dental insurance! Insurance Information.
Some of our providers