Soft tissue grafts
Periodontal procedures are available to stop gum recession and/or to improve the esthetics of your smile.
Schedule an appointment
PATIENT INFORMATION
The procedure
Some soft tissue graft procedures are designed to re-establish a healthy and stable gingival attachment around your teeth. This protects your tooth roots and the surrounding bone. Other soft tissue graft procedures are designed to aide in covering exposed root surfaces. These procedures can improve the esthetics of your gumline and reduce sensitivity associated with exposed root surfaces. Dr. Seale will perform an examination to determine which graft procedure is best for you and discuss any options with you prior to treatment.
Treatment options
Free Gingival Graft

A free gingival graft, also referred to as a "patch graft", is a commonly used soft tissue graft technique used to correct areas around teeth that have lost their healthy gingival attachment. Free gingival grafts are harvested from the patient's palate (roof of the mouth) and placed in the area of the mucogingival defect (area around the tooth or teeth that are missing a healthy attached gum tissue). Free gingival grafts are very predictable, heal quickly, and provide a very strong and robust gum tissue attachment.

Connective Tissue Graft

A connective tissue graft, also known as a "sandwich graft", is a soft tissue graft that is used to regenerate a healthy gum reattachment and also cover some or all of previously exposed root surfaces. Connective tissue grafts are harvested from the patient's palate and placed over the teeth with exposed roots. This graft technique is challenging and more technique sensitive. Not all teeth or gingival defects can be treated with connective tissue grafts. Some teeth with bone loss, poor bone anatomy, or adjacent frenum (muscle) attachments are not good candidates for connective tissue grafts. Dr. Seale will examine your teeth and discuss with you whether a connective tissue graft is appropriate for you. When used, a connective tissue graft can give a beautiful esthetic result that improves your smile and the health of your gingival tissues.

Alloderm Graft

Alloderm is a dermal matrix that can sometimes be use for soft tissue grafting. Using Alloderm eliminates the need for harvesting tissue from your palate. This can be beneficial for patients that need large grafts or grafts in several locations. Use of Alloderm can also provide some patients taking blood thinner medications a safer treatment option. Dr. Seale can explain Alloderm to you and determine if it is an appropriate choice for you.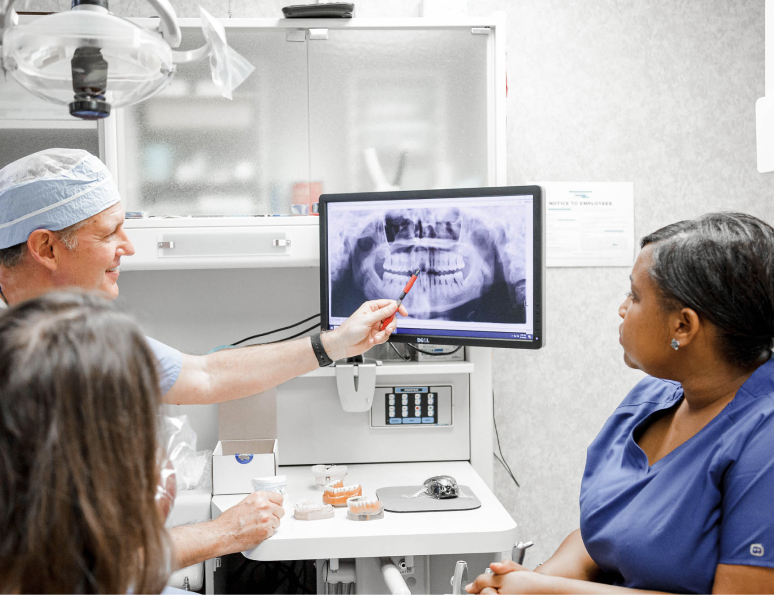 Our step by step process to get you back the smile you deserve.
01.

Clear communication

Dr. Seale and his staff will be happy to help guide you through treatment processes to ensure that you understand your options and benefits.

02.

Diagnosis

During your initial exam, Dr. Seale will evaluate your specific needs by performing a thorough examination.  He will then advise you of your best treatment options.

03.

Treatment

Each patient is different and Dr. Seale will recommend treatment to set the patient up for the best possible chance at success.

04.

Maintenance

Periodontal maintenance is a professional cleaning procedure where a hygienist thoroughly cleans the teeth. Maintenance care is critical to maintain a healthy beautiful smile.
Contact us
Insurance providers we accept
We are not an in network provider, but will help you file your dental insurance! Insurance Information.
Some of our providers